Provisional Riddor reporting figures* released by the Health and Safety Executive (HSE) may indicate that complacency within some industrial sectors is resulting in unnecessary fatalities. The number of people who lost their lives whist at work, in Great Britain, over the 2017-18 annual reporting period has seen an increase upon previous years with 144 deaths recorded. That is a 12% increase, nine fatalities, in comparison to the 2016-17 reporting period.  These figures do not include deaths resulting from: natural causes, road traffic accidents, any form of commuting or service with the armed forces whilst on duty.  Neither do they include (importantly!) those fatalities that result from occupational diseases – more on that later.
In addition, it was reported that 100 members of the public also lost their lives as a result of work related activity.
Marked Increase In Construction Sector Fatalities
It was the construction sector that once again took centre stage in this report which, having seen the lowest number of recorded fatalities on record (30) for the sector in 2016-17, saw a marked 27% increase in that figure in this year's report. In total the provisional figures indicate that 38 construction workers suffered fatal injury throughout the 2017-18 reporting period.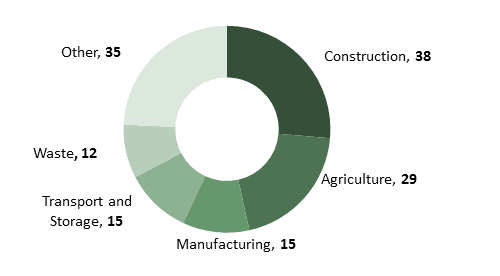 Fatalities By Sector
Fatal Accident Type
The most common type of fatal accident continues to be the result of: falls from height (35) and being struck by a moving vehicle (26) or by a moving object (23) which accounted for nearly 60% of deaths in 2017/18.

Type of Fatal Accident
Age and Gender Appears to Have an Impact
As in previous reporting periods most fatalities 138 (98%) were reported to be male workers.  This year's report however also highlights a steep increase in the fatal injuries recorded amongst the 60's and over age group, who whilst only making up 10% of the workforce accounted for 40% of all fatal injuries reported.  Worryingly a trend is clearly appearing, with year on year (almost!) increases in fatalities amongst this age group.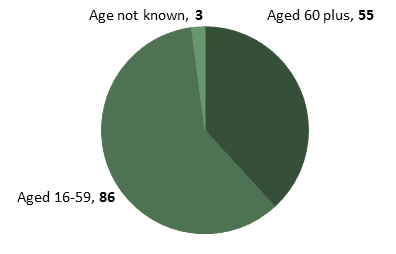 Fatalities by Age
Long Term Trends
Whilst there has been a considerable reduction in the fatalities that occur annually as a result of work place activity (there were 495 such fatalities reported in 1981), the last five years have seen little or no improvement, with the average number of workers killed annually over that period being 141.
Occupational Diseases
It is difficult to ascertain these figures directly as they typically occur many years after exposure and although we are now better able to record deaths related to specific diseases such as asbestos related cancer (mesothelioma) of which 2,595 such deaths were recorded in 2016, other deaths relating to occupational disease still require estimation.
This year's report estimates that in the region of 13,000 deaths occur each year as a result occupational lung disease and cancer due to past exposure, primarily to chemicals and dust within the workplace.
Conclusions
The downward trend in accidents in the workplace has stagnated and there are clear statistical indications that such accidents are impacted by: industrial sector, gender, age and activity.  The number of deaths resulting annually from past exposure to health-related hazards in the workplace are considerably greater than the headline figures surrounding fatal accidents.
The figures suggest that employers must do more to challenge themselves and their line managers in a number of areas, not least:
Do our H&S procedures adequately address those activities highlighted in the report as high risk (i.e. working at height, traffic management, etc)?  

How does our H&S policy provide for older workers? How do we determine their ability, fitness and competence to undertake tasks or operate in certain areas?

Have we fully considered the impact of: dust, fume and the variety of chemicals in use within our work places? Are we undertaking the necessary workplace monitoring to identify the true extent of the hazard? Are we providing enough health monitoring on behalf of our employees?  

Are our H&S audits suitable and sufficient? Do we ensure that appropriate PPE is not only provided but in use and that activities are undertaken in accordance with procedures?

How are we ensuring that our sub-contractors (where appropriate) are meeting their statutory duties?
Given that organisations can now expect very substantial fines and the possibility of custodial sentences as a result of health and safety failings they can ill afford to become complacent.  Employers must ensure that they not only have a suitable and sufficient safety program in place but that they are also providing the necessary training to the right individuals within their workforce at the right time, irespective of age or gender.
*Review the full report produced by the Health and Safety Executive.
https://goldcross-training.co.uk/wp-content/uploads/2017/12/Construction2.jpg
500
1600
Goldcross
https://goldcross-training.co.uk/wp-content/uploads/2018/01/Goldcross-Transparent-Edit-300x93-300x93.png
Goldcross
2018-11-04 08:18:24
2020-05-29 19:35:00
Becoming Complacent?