HSE # DustBuster Campaign

Goldcross Training are supporting the Health and Safety Executive (HSE) #Dustbuster campaign in a bid to raise awareness about occupational lung disease within the construction industry.  The campaign will run from the 17th June – 12th July 2019 and the HSE are providing a range of free resources to help businesses and workers:
Know the risk

Plan their work

Use the right controls when working with dust
Throughout the campaign, the HSE will be targeting firms across Great Britain in a new series of inspections focusing on dust control, particularly in industries where occupational lung diseases (including in some cases occupational cancers are more common) such as: construction, woodworking and food manufacturing.
HSE Inspectors will be visiting business across the country to see first hand the measures that have been put in place to protect worker's lungs from the impact of dust.  They will be looking for evidence of: both businesses and their workers knowing the risks linked to asbestos, silica, wood and flour dust (as applicable), that they are planning their work appropriately and using the right controls. Where considered necessary the HSE will use enforcement to make sure people are protected.
Recently released figures indicate that there are:
12,000 estimated deaths related to lung disease per annum due to past exposure through work

20,000 new cases of breathing or lung related problems (caused or made worse by work) are reported on average per annum
Additionally there were considered to be:
2,595 deaths directly related to Mesothelloma with a similar number of 'lung cancer' related deaths being linked to asbestos exposure – these death rates are projected to continue for the rest of the decade.
How lung diseases contributes to the current estimated work related death rate can be seen at figure 1: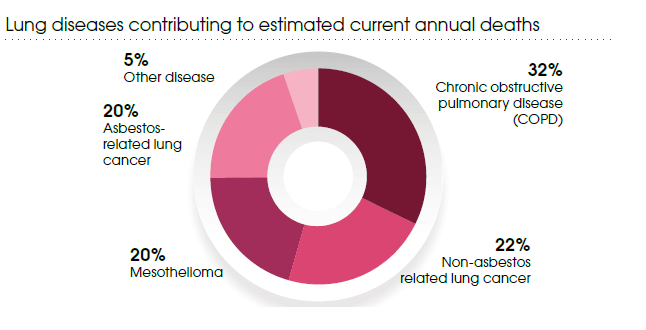 Sadly despite the effort that has gone into identifying and providing for asbestos related hazards in recent years individuals and their families are still experiencing the impact of exposure to it today, despite the fact that its use was banned within the UK some 20 years ago.  
This is one of the major reasons that Goldcross consider campaigns of this type to be of such importance particularly as the hazards related to both dust and fume rarely result in injury but almost always in chronic illness that will impact individuals considerably later in life.  Hence wilst it is vitally important to both realise and provide for the risks of asbestos it is equally important to consider dust and fume resulting from any activity within the workplace in order to ensure that appropriate control measures are put in place and exposure misimised, so that workers and visitors remain safe. 
Goldcross helps to achieve this through the provision of a range of education and training such as the suite of CITB: Site Safety Plus courses and the IOSH Managing Safely course.
https://goldcross-training.co.uk/wp-content/uploads/2019/06/dust.png
463
1200
Goldcross
https://goldcross-training.co.uk/wp-content/uploads/2018/01/Goldcross-Transparent-Edit-300x93-300x93.png
Goldcross
2019-06-06 10:35:50
2020-05-29 19:35:00
HSE # DustBuster Campaign